I've recently found another Animorphs RP forum, however on this one pretty much all of the main characters are taken already.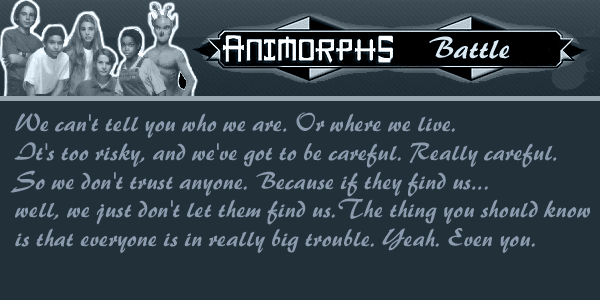 [Part of this plot was from the original plot from the books. Most was made up by me]
Sometimes weird things happen to people. Ask Jake. He may tell you about the night he and his friends saw the strange light in the sky. He may even tell you about what happened when they realized the "light" was only a plane -- from another planet.

Here's where Jake's story gets a little weird. He and his friends are told the human race is under attack, but they're given the chance to fight back.

Now Jake, Rachel, Cassie, Tobias and Marco have the power to morph into any animal they choose. And they must use that power to outsmart an evil that is greater than anything the world has ever seen...
The blue box Elfangor used to create the Animorphs has been found by a kid named David. Marco sees David with the box and knows the Animorphs must take it back. They end up saving David and the box from Visser Three, but with the Yeerks still looking for them. They turned David into one of them, Then realized it was a mistake.

But it was too late. David has turned on the Animorphs, and has created his own group of Animorphs, but with the name of Altermorphs, simply meaning to change shape. These Altermorphs aren't as nice as the Animorphs would have hoped. The Animorphs decide to take their chances and start creating new Animorphs, hoping to be able to win both battlesSo now it's a battle between the Animorphs, and the Yeerks, and the Animorphs, and the Altermorphs. Will the Animorphs be able to battle the Yeerks once again, in order to stop Visser Three from stealing the box, and killing them?

There's a new batch of Animorphs in town...
Join
Animorphs Battle
now!
Home
l
Plot
l
Rules
l
Claim a Canon
l
Advertise